STREAM Learning Philosophy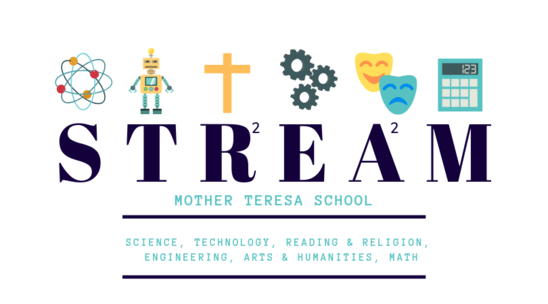 Mother Teresa School is a STREAM school
What does STREAM stand for?
S-Science
T-Technology
R2-Reading & Religion
E-Engineering
A2-Arts (Performing & Visual) & Humanities
M-Math
What is STREAM?
Stream is an educational embedded approach to learning that uses Science, Technology, Reading & Religion, the Arts (Humanities, Performing & Visual Arts) and Mathematics as access points for guiding student inquiry, dialogue, and critical thinking.
The end results are students who take thoughtful risks, engage in experiential learning, persist in problem-solving, embrace collaboration, and work through the creative process.  These are the innovators, educators, leaders and learners of the 21 Century! It's used as a natural fit for the intent of the learning opportunity. STREAM is integrated into everything at the school. It's not a scripted curriculum as it's an approach.
How does it work & what are the benefits for students?
STREAM is an educational approach using Science, Technology, Reading & Religion, the ARTS & Humanities and Mathematics as an access point for guiding students to be critical thinkers and to be more engaged in how they learn through creativity, problem-solving and collaboration with one another.
Where did STREAM come from?
For almost 2 decades into the 21stcentury, we are living in a world molded by science, technology, engineering and math. It's for this reason that the multidisciplinary teaching methods of the STEM (Science, Technology, Engineering, Math) programming had become one of the most important and pervasive trends in education. After creating many STEM schools, studies began to show that the STEM approach puts too much weight on only one side of the brain. Integration of the Arts (Performing & Visual arts, Humanities) was introduced to even distribute this weight STEAM.  The "R" was added shortly after which stands for Reading and (wRiting) and in Catholic School also stands for Religion.
What does a STREAM School look like?
Collaborative planning, including a cross-section of teachers on each team - shared teaching
Adjusting school schedule to accommodate a new way of teaching and learning
Requires Professional development for all staff in STREAM practices and principles
Working closely with our District Religious Education Coordinator 
STREAM schema-mapping for the new AB curriculum and assessment design process
Alignment and unpacking of all competencies/content/assessments
Seamless lesson implementation processes and strategies
How does the STREAM approach fit into the new K-4 New Alberta Curriculum?
The new Alberta Education curriculum is based on and states that "students are the artists, scientists, thinkers, innovators and leaders of the future.  They will be tasked with solving the problems of today, while imagining and creating a new tomorrow.  Competencies are critical for equipping students with the knowledge, skills and attitudes that they will need to successfully navigate their personal journeys in learning, living and working."
This past year Mother Teresa School has been piloting STREAM learning in some classrooms every morning with our students. In those classrooms, we have seen a huge improvement in student engagement and students enjoy being given choices in their approach to learning. Students are starting to make the connection recognizing how their brain works and what makes them inspired to learn. Teachers will be trained to facilitate this new learning approach.
The Alberta Education curriculum will still be followed but it's in the approach in how it's taught that is different.
Why is STREAM perfect for a Catholic School?
10 Characteristics of a STREAM School- National Catholic Education Association
STREAM schools seek to integrate Catholic Identity into every aspect of the curriculum.  They manifest this intent through projects based in social justice as well as in-depth experimental instruction in the teachings of the Church.
STREAM schools provide a challenging learning environment focused on science, technology, math, arts, engineering and the integration of education that inspires the joy of discovery and an authentic culture of faith based on the doctrinal precepts of church teaching.
STREAM schools promote a culture of innovation as well as a commitment to ethical behaviour.
STREAM schools seek to increase the participation of groups that are under-represented in the sciences.
STREAM schools increase content literacy for all students including those who do not pursue technology related careers of additional studies in the STREAM disciplines.
STREAM schools are inclusive.  They serve a broad population and operate on the dual premises that math and science competencies can be developed and that all students need access to STREAM competencies to become full participants in the 21st Century education.
STREAM schools foster an environment that encourages problem solving, group collaboration, and independent research by utilizing instructional practices and organizational conditions conducive to student achievement.
STREAM schools demonstrate that success is defined in many ways and can occur in many different types of schools and learning environments.
STREAM schools utilize strategic planning as a blueprint to guide the schools' development and implementation of the STREAM curriculum.
STREAM schools are "think forward" institutions and place high priority on educator training, learning, leadership and 21st Century skill applications.